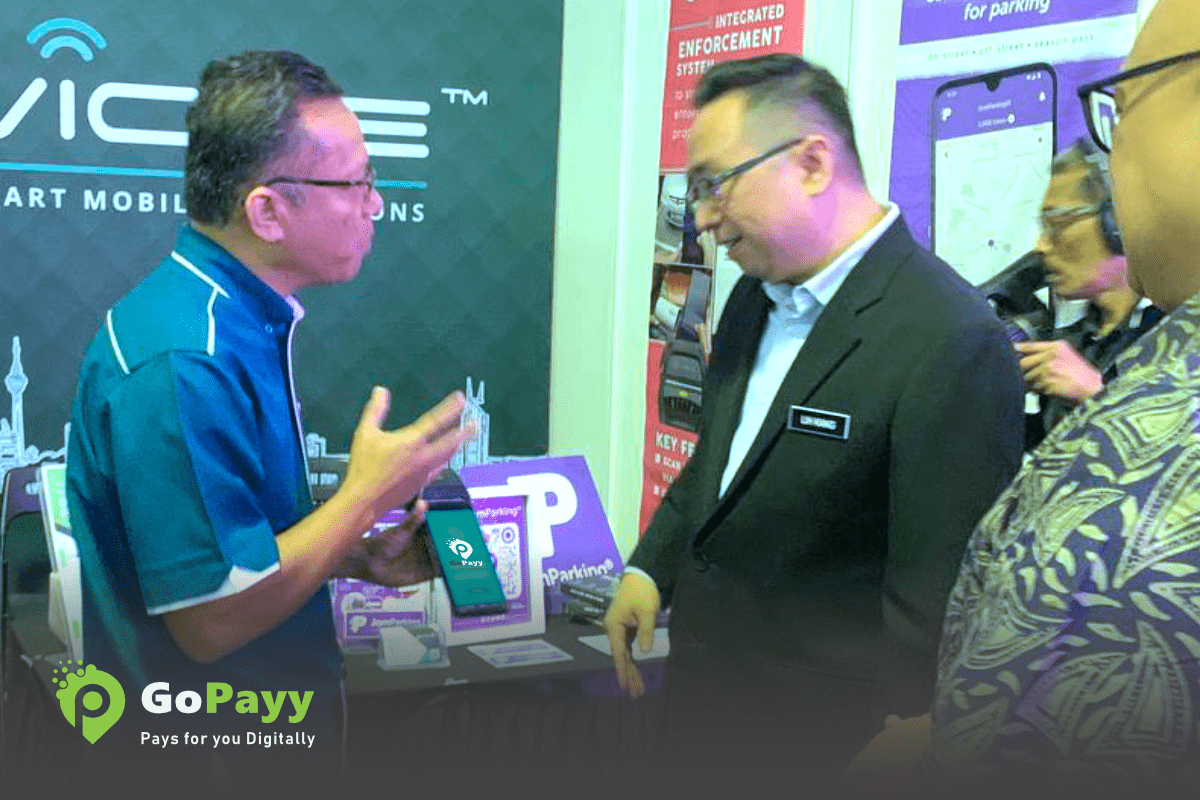 Cyberjaya, September 9, 2023 – Govicle Sdn Bhd, an IT company that specializes in providing innovative solutions to empower businesses and government agencies, is proud to announce the soft launch of their cutting-edge mobile POS system, GoPayy at the InnoEx event hosted at Rekascape, Cyberjaya from September 7th to 9th, 2023.
GoPayy is set to make waves in the world of payment technology within government agencies and small businesses with its custom-tailored features platform that offers businesses and organizations a seamless way to manage payments, customers, and loyalty programs.
WHO SHOULD USE GOPAYY
Originally, GoPayy was conceived as a lifeline for parking users, a simple solution to make parking payments hassle-free at any GoPayy agent.However, GoPayy held the power to transform more than just parking payments. It had the potential to revolutionize the way local councils collected payments for their services. No more tedious waits at the counters; GoPayy could facilitate seamless transactions through various merchants.
But it shouldn't stop there. GoPayy had the potential to be a game-changer for all, not just government agencies or local councils. Small businesses were longing for a way to step into the digital age, but the options available were often complex and expensive.
GoPayy evolved into something even greater – a lifeline for small businesses looking to digitize and grow. Our mobile Point-of-Sale (mPOS) system was crafted with their unique needs in mind, offering a simplified, user-friendly platform with an affordable payment plan.
GoPayy is ideal for a wide range of businesses and organizations, including Local Authorities, Small Businesses, Parking Management, Event Organizers, Car Wash Services, Pop-Up Stores, and many others.
Here's a glimpse of what GoPayy brings to the table:
KEY FEATURES OF GOPAYY
Mobile POS System: Say goodbye to clunky hardware; GoPayy provides a user-friendly mobile point-of-sale system for businesses on the go.
Multiple Payment Methods: Accept a wide range of payment methods, from cards to digital wallets, ensuring convenience for all customers.
Customer Management: Easily manage and track customer information and preferences, fostering better relationships.
Customer Memberships & Loyalty Program: Implement membership programs to reward loyal customers and encourage repeat business.
Reporting and Analytics: Gain valuable insights into sales and customer behavior with robust reporting and analytics tools.
Custom and Tailored Features: GoPayy offers flexibility, allowing businesses to tailor the system to their unique needs.
BENEFITS OF USING GOPAYY
User-Friendly Interface: GoPayy is designed with simplicity in mind, making it easy for businesses of all sizes to use.
Simple & Efficient: Streamline your operations and improve efficiency with our intuitive platform.
Cost-Effective: Enjoy cost savings with our affordable pricing structure.
Record Sales with Ease: Track sales and payments effortlessly, reducing the risk of errors.
Improved Data Insights: Make data-driven decisions with access to powerful analytics.
Customer Support & Training: We provide comprehensive customer support and training to ensure a smooth transition to GoPayy+.
To celebrate the soft launch of GoPayy, the first 50 customers who sign up will enjoy a special offer. Don't miss this chance to revolutionize your payment systems!
For media inquiries and further information, please contact:
For additional info:
Govicle Sdn Bhd
Nurur Razanah Abd Aziz
0134930253