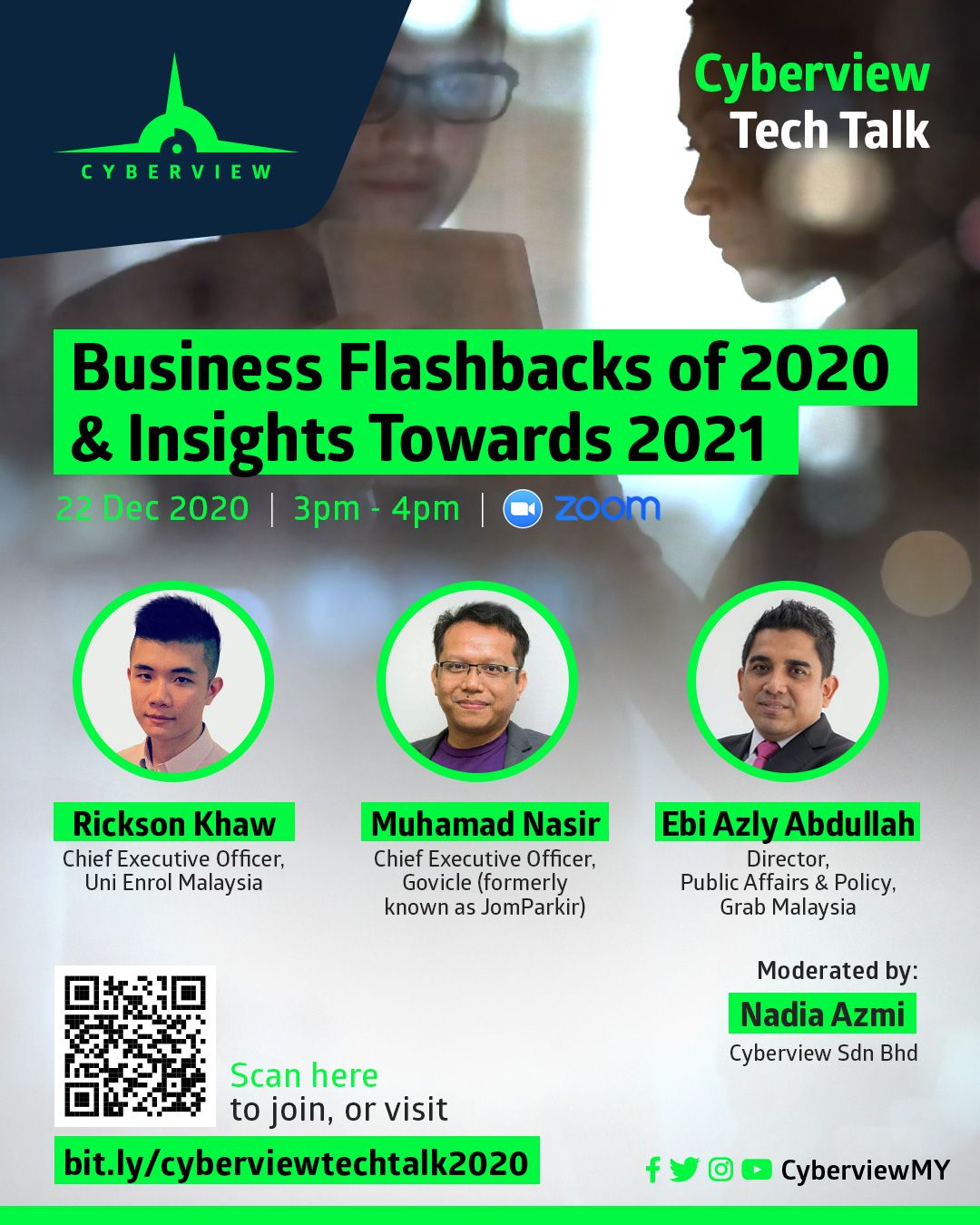 CYBERJAYA, 24 DECEMBER 2020 – As a wrap-up to 2020, Cyberview Sdn Bhd (Cyberview), the  Tech Hub Developer of Cyberjaya organised a Tech Talk webinar themed, 'Business Flashbacks of 2020 & Insights Towards 2021' that brought together prominent names in the local start-up scene to share their experiences in pivoting to meet the needs of a changing world, discuss the importance of digitalising to stay agile, as well as the new norms of their respective industries.
The panellists include Rickson Khaw, Chief Executive Officer of Uni Enrol Malaysia; Ebi Azly  Abdullah, Director, Public Affairs & Policy, Grab Malaysia; and Muhamad Nasir, Chief Executive  Officer, Govicle (formerly known as JomParkir).
Without a doubt, the COVID-19 pandemic has brought immense challenges globally as people,  businesses and governments continue to grapple with its effects. Overnight, this health crisis changed the way people live, play and work. Many entrepreneurs and businesses had to look into restructuring safety protocols, revamping business models and developing a comprehensive digital presence to stay afloat. However, as the saying goes, "adversity breeds innovation", and this is where start-ups, as innovators and enablers of the digital economy, rose to the challenge and demonstrated admirable grit and resilience in order to overcome the difficulties of these unparalleled times.
According to Rickson Khaw, some industries are anticipated to perform better next year as they have put in the effort to enhance their services, "I believe that 2021 will be a bumper year for quite a number of sectors as people have taken a 'wait and see' approach this year, so many purchases got postponed to next year. However, the level of expectation on customer  experience towards merchants or service providers that sell online will be at an all-time high  next year." Based on their experiences this year, they will improve what is lacking and deliver better services to consumers next year. To remain competitive, companies need to focus on their strengths and find innovative ways to stay ahead. At Uni Enrol, we were at the forefront in taking things online, especially as the industry we are operating in is a largely offline one.  When everyone else started moving online, we were already many steps ahead."
Ebi Azly Abdullah shared insights into Grab's innovative efforts and the gig economy: "COVID 19 has underscored the fact that businesses need to embrace digital transformations to remain relevant. Some even say that this health crisis has accelerated digital transformation by seven years in the last few months. At Grab, we have a long-term commitment of digitalising traditional and small businesses, and we want to ensure that they are included in this growing digital economy. We also believe that gig work is an integral part of the new economy and it is here to stay. As such, we will continue to work closely with the government to ensure that our partners in the gig economy are not left behind. We need to ensure that gig work is fair,  inclusive, and sustainable for all."
A graduate of the Cyberview Living Lab Accelerator (CLLA) programme, Muhamad Nasir Habizar highlighted the importance of strategic partnerships for start-ups, "Through Govicle's participation in the CLLA programme, we were able to benefit from Cyberjaya's vibrant ecosystem, which enabled us to forge dynamic partnerships with establishments such as MARii,  MDEC, MaGIC and Cradle in our efforts to accelerate smart mobility solutions. Despite the pandemic limiting our ability to travel across borders, we were able to continue to network virtually and establish partnerships abroad, namely in Saudi Arabia and South Korea. Our  strategic partnership with a VC from South Korea, TheVentures will enable us to enhance our  systems and technology to build the first vehicle data exchange in Southeast Asia, whilst  spearheading the parking industry's transition into adopting the Smart City concept."
"Despite the challenges that this year has brought upon us, we are pleased to have continued our efforts to enhance Cyberjaya's tech ecosystem and work together with so many innovative companies. As we conclude Cyberview's final webinar for 2020, we would like to wish all our stakeholders and partners a big thank you for your unwavering support across our webinar series this year. We truly valued your insights, ideas, and words of wisdom as well as the inspiring experiences shared. We look forward to many more exciting collaborations in 2021!" concluded  Najib Ibrahim, Managing Director of Cyberview.
Start-ups and corporations that are interested in joining Cyberjaya's tech ecosystem and would like support in their digital transformation journeys can contact the Cyberjaya Investment &  Services Centre (CISC) at [email protected] or +603-8750 5170. The CISC is a one-stop  centre that provides facilitation on talent services, business services and location as well as ex-pat services.
For the full recording of this webinar, visit Cyberview's YouTube channel at  youtube
Source:malaysian-business.com