Integrated
Enforcement
System
GoForce is a comprehensive integrated enforcement system designed to simplify enforcement management processes for law enforcement agencies.
The system features advanced technologies such as Automatic License Plate Recognition (ALPR) and barcode scanning, making the issuance of notices and compounds faster and more efficient. GoForce stores all data securely in the cloud, allowing officers to access it from anywhere, at any time.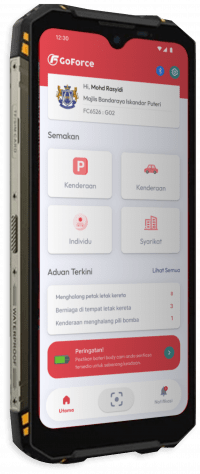 With real-time reporting and advanced analytics, GoForce enables law enforcement agencies to make quick decisions and plan for the future. The user-friendly interface of GoForce improves productivity and effectiveness by streamlining enforcement management processes.
Overall, GoForce is the ultimate solution for law enforcement agencies to increase efficiency, improve accuracy, and reduce errors.
If you want to streamline your enforcement management processes, GoForce is the solution you need.
Are you interested?
Fill out the form and we will contact you very soon.
We respect your privacy 100%, so the information that you provide will remain strictly confidential. Nevertheless, a copy of your message might be stored in our records as a database entry for archival purposes.